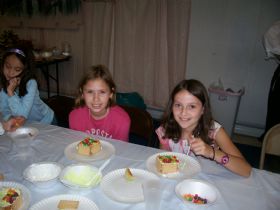 That's right moms and dads, your children are all ready for Sukkot this Wednesday Night. We've learned all about what this day means to us and about some of the key facts and customs.
For more information on the Holiday of Sukkot, be sure to check out our Sukkot Web site
Each Class enjoyed seeing a power point of different Sukkot around the world
And had fun creating an edible Sukkah
In the Gimel class, Ages (8-11), we Enjoyed learning from our High Holiday Machzor all about Sukkot and what makes a Sukkah Kosher, we also learnt why Sukkot is more important then chanucka!
In Aleph Champ we all were so excited to get back into our reading. This week Those of us on white level learned Gimel & Daled
And those of us on Yellow we are brushing up our skills so that we can very soon move up to the next level Wow Green!
Mrs. Laufer is encouraging all the children in Bet & Gimel to do reading practice every day!!!!!
Those that bring a signed paper that they did reading practice every day according to your level using your Homework Almanacs will receive tokens!!
In the Bet class, Ages (6-7)
We Learnt a song about building a sukkah, we read a story about all the items used to build a Sukkah and we learnt what makes a Sukkah Kosher, 4 walls, more shade then sun.
And we are really enjoying learning our Hebrew letters through Alef Champ.
We have started on White and we can't wait to learn all the letters
In the Aleph class, Ages (4-5)
This week the Hebrew letter that we learnt about was Bet which makes the B sound. We started our new aleph bet book, which will stay in Hebrew school, but you can see it when you come!
We enjoyed doing our bet dot to dot and we had fun making bets out of Buttons, we enjoyed playing an aleph bat match it game
We read a touch and feel book about the Holidays, we colored a picture about sukkot, we learnt a song about sukkot, and we practiced building a Sukkah with 4 walls with our hammers and tools, and blocks, wow we really worked hard
We'll be back next week and keep keeping you informed of our progress