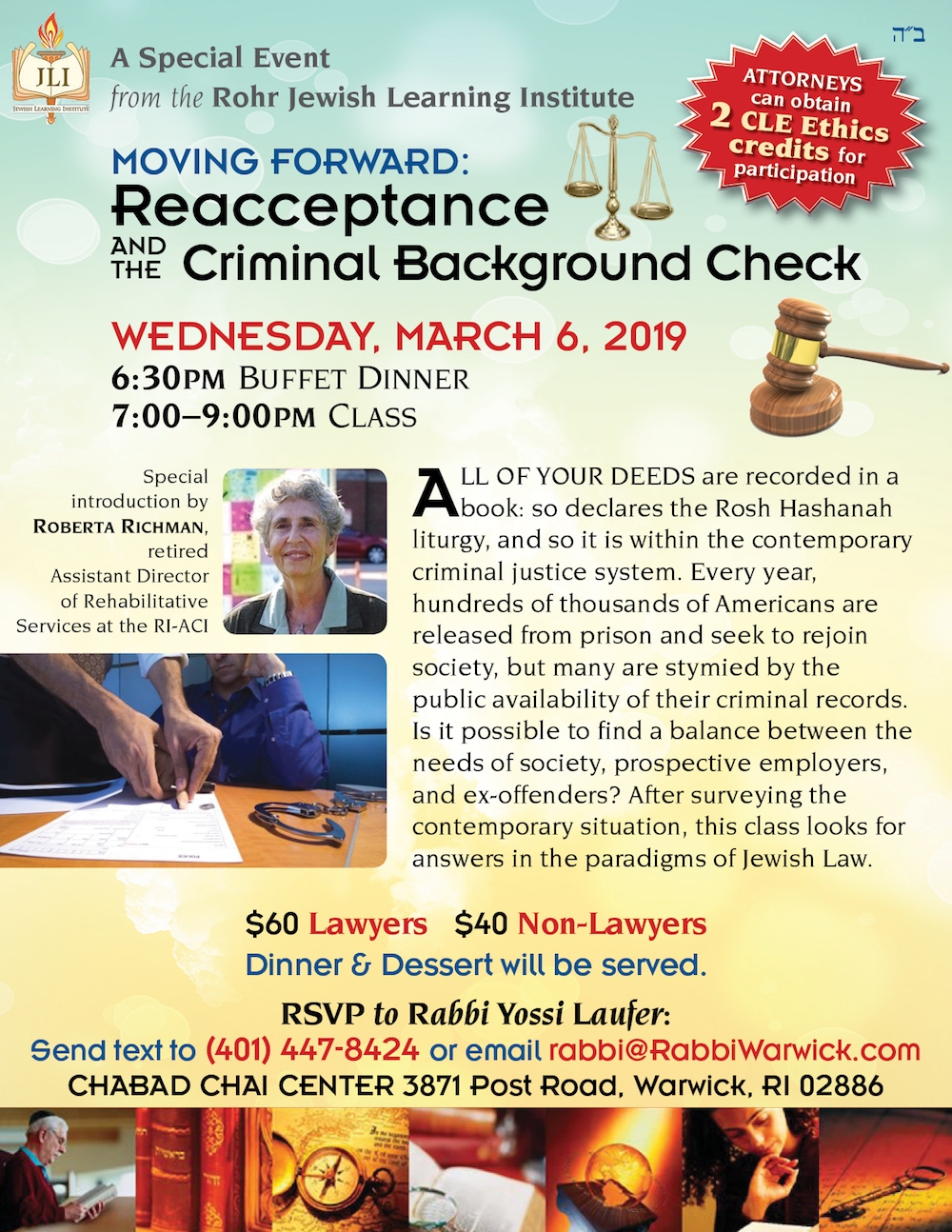 Course is accredited for RI-CLE credits up to 10.5 credits, all of which can be used toward general, ethics and or criminal law credits.
$70 for the course, $20 if you would like to keep the text book, $30 for CLE credits 
Chabad Chai Center 3871 Post Rd, Warwick, 02886

6 Mondays
Beginning 02/04/2019
12:00 PM - 1:30 PM

6 Wednesdays
Beginning 02/06/2019
7:30 PM - 9:00 PM

Eliot Rose 1000 Chapel View Blvd, Warwick, 02920

12 Thursdays
Beginning 02/07/2019
12:00 PM - 1:00 PM

Gilstein, Kinder & Levin 300 Metro Center Blvd, Warwick, 02886

6 Thursdays
Beginning 02/07/2019
4:30 PM - 6:00 PM

Partridge Snow & Hahn 40 Westminster St, Warwick, 02903

18 Wednesdays
Beginning 02/06/2019
8:00 AM - 9:00 AM

Phillys Siperstein TAMARISK Assited Living 3 Shalom Dr, Warwick, 

6 Tuesdays
Beginning 02/05/2019
6:30 PM - 8:00 PM

For more information visit us at www.myjli.com or call us at 401-884-7888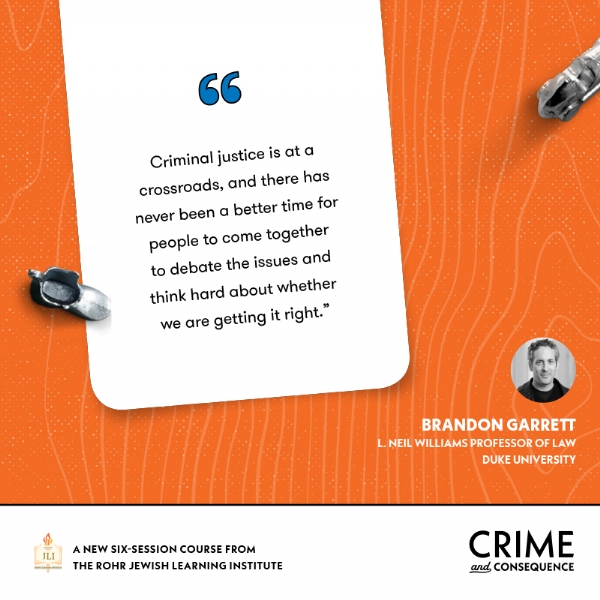 This February, Rabbi Yossi Laufer will offer Crime and Consequence, a new six-session course by the acclaimed Rohr Jewish Learning Institute (JLI) exploring 3000 years of Jewish perspective on conviction, sentencing, and criminal rehabilitation.
Beginning the first week of February 2019, participants in the course will challenge their thinking, ponder the implications of ancient Talmudic wisdom for complex modern cases, and get to the heart of the most pressing injustices facing our criminal justice system today."DNA testing is proving that we've been convicting innocent people.
When we incarcerate first-time offenders, we'returning them into hardened criminals. Known murderers are able to walk free on a technicality. How can we stand by and remain silent to these serious flaws in our criminal justice system? Rabbi Yossi Laufer, the local JLI Instructor,says "I believe the first step is for us, as a community,to acknowledge the issues and explore possible solutions. And can you think of a better place to look for guidance than Judaism's wisdom of the ages?"
Participants in the course will ponder foundational questions: What is the goal of criminal punishment—to gain retribution for the victim, to keep criminals off the streets and safeguard from future crime, to set an example and instill the fear of law, or to rehabilitate the criminal and reintroduce him to society? 
Should we consider testimonies given in exchange for a reduced sentence as reliable evidence? The course also boldly addresses society's most serious sentencing questions: Is life-without-parole a justifiable penalty? May we sentence a person to death? When would these options be warranted? Is there a better way?
"Crime and Consequenceis for people who care deeply about humanity, who are enraged at injustice, and who are fascinated by real-life catch-22 scenarios," remarked Rabbi Zalman Abraham of JLI's Brooklyn, New York headquarters. "Participants in the course will uncover the humanity within all people—including criminals, question judicial practices that seem unethical and unfair, and explore effective crime deterrents." 
"It is a profound irony that the United States is a true beacon of democracy, freedom, and the rule of law while it imprisons more of its own citizenry than any other country," wrote Professor Alan Dershowitz, Professor Emeritus at Harvard Law School, in his endorsement of the course. "Crime and Consequence. . . brings rigorous legal analysis, statistical data on incarceration and rehabilitation, and case studies into auniquely profound dialogue with the values under girding our entire political tradition. 
"Scott Turow, attorney and author of Presumed Innocentand thirteen other best-selling novels on criminal law, commented that this course". . .shows that this is a subject that involves our oldest and most treasured ideas of right and wrong."
Crime and Consequence is accredited in RI for attorneys and other law professionals to earn continuing education credits.
Like all JLI programs, this course is designed for people at all levels of knowledge, including those without any prior experience or background in Jewish learning. All JLI courses are open to the public, and attendees need not be affiliated with a particular synagogue, temple, or other house of worship. 
Interested students may call 401-884-7888 or visit www.myJLI.com for registration and for other course-related information.
Lesson 1 
Lock and Key: What's the Point of Prison?
A quick glance at the statistics suggests an uncomfortable truth: modern-day societies imprison people at a rate unparalleled, and indeed unimaginable, in past times. Why is this so? Why do we lock people up, and what do we hope to achieve by doing so? Does the purpose of prison always outweigh the cons of conviction? This lesson considers and contrasts secular and Talmudic theories of criminal justice, before suggesting how to ensure a more just justice system
Lesson 2 
Judge, Jewry, and Execution: Judaism and the Death Penalty
Some crimes are irreversible. Everyone makes mistakes. Taken together, these two propositions suggest both the imperative and impediment for the death penalty and point to its central paradox. Can man have the authority to sentence another man to death? How should we respond to the most serious crimes?
Lesson 3 
Justice, Justice Shall You Pursue: Standards of Evidence in the Talmud
Justice may be blind, but judges and juries must be clear-sighted. This lesson explores the concept of evidentiary standards as it arises in several overlapping areas of Talmudic and secular law: How can we assess the truth of testimony? Does every criminal confession pass muster, or are some inadmissible? When can informants be considered credible?
Lesson 4 
Clean Slate: How Do Criminals Make Amends?
What is the ultimate aim of the criminal justice system? If society seeks restitution for crimes and rehabilitation for criminals, it needs a better plan. It must consider what rehabilitation looks like, for which offenders and offenses it is applicable, and how to ensure sentencing contributes to this end. This class examines the extensive, systematic program of repentance laid out in the Talmud and considers what insights this process holds for the above questions and present-day criminal rehabilitation. Finally, we look at sentencing programs that incorporate some of these elements in their pursuit of real rehabilitative justice.
Lesson 5 
Moving Forward: Reacceptance and the Criminal Background Check
All of your deeds are recorded in a book: so declares the Rosh Hashanah liturgy, and so it is within the contemporary criminal justice system. Every year, hundreds of thousands of Americans are released from prison and seek to rejoin society, but many are stymied by the public availability of their criminal records. Is it possible to find a balance between the needs of society, prospective employers, and ex-offenders? After surveying the contemporary situation, this class looks for answers in the paradigms of Jewish law.
Lesson 6 
An Ounce of Prevention: Addressing Crime Before It Happens
The best way to improve the criminal justice system is by keeping people out of it. But before any attempt to prevent crime can be made, its causes and preconditions must be better understood. Judaism has long recognized the role of societal factors in the commission of crime: poverty and unemployment are significant, as are education, values, and personal character. This final lesson discusses the roots of criminality, several specific preventative policy proposals, and the various concerns associated with them.